Quiche Lorraine Recipe
Here is a classic quiche Lorraine recipe. In France, this is often made with crème fraîche, but you can substitute heavy cream, which may be more readily available and more reasonably priced if you live outside of France.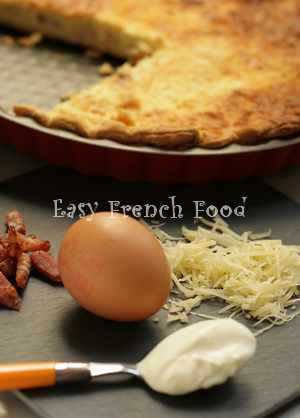 Bacon is popular in the cooking of Lorraine, as in this quiche Lorraine recipe. The inclusion of cheese is open to debate. No less of an authority than August Escoffier himself mentions that cheese is not included in the traditional quiche Lorraine recipe. However, I think most French home cooks include some these days.
Once again I recommend using a store bought pastry pie crust in order to save time. If you do have time, please don't hesitate to make your own pie crust.
Quiche is best served warm or at room temperature. It can be rewarmed in a hot oven. See these basic quiche making tips for more information on how to make quiche.
Crème Fraîche
The delicious sightly nutty, slightly sour taste of crème fraîche makes frequent appearances in French recipes. Its thick, velvety consistency can be hard to match if you have none available.
The good news is that you can make your own with very decent results, just follow this creme fraiche recipe.