Potato Leek Soup Recipe
Hot or Cold Vichyssoise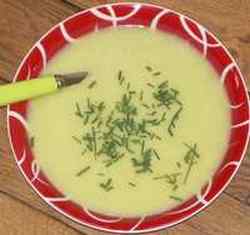 This potato leek soup recipe is very simple despite its somewhat haughty name. Vichyssoise makes a great starter for a company dinner because it can be made ahead of time and served whenever you wish. The fact that it is served cold makes it a bit exotic and this will probably please your guests. However, although it is traditionally served cold, nothing is to stop you from serving this soup warm if you wish. It is equally delicious.
Cooking Tip
If you're tired of the mess and difficulty of pureeing soups in the blender or food processor, try out a stainless steel food mill. It quickly purees all manner of things and clean up is a snap. These simple tools are very popular in France and I love mine.