Meringue Cookies Recipe
So easy your kids can make them!
Here is an easy French meringue cookies recipe that your kids might enjoy making themselves. They are crispy on the outside and soft and a little chewy on the inside. If you just stick to the basic recipe, they are very low in fat and make a fairly low calorie treat . . .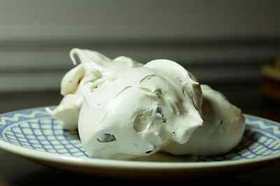 Tips for Meringue Success
Make sure your mixing bowl is completely clean and free of any trace of fat. If in doubt, wash and dry it thoroughly. Egg whites will not stiffen if there is fat present.
Use a metal mixing bowl (plastic can appear to be clean, but may still have traces of grease you can't see).
Separate the eggs while they are still cold.
Separate the egg in two smaller bowls, then add the egg white to the mixing bowl after you are sure you have an egg-yolk-free white. Cover the egg yolks and refrigerate to use for something else (properly stored egg yolks can be safely used several days after they have been separated).
Allow the egg whites to come to room temperature before beating them. This takes about 30 minutes to an hour.
Unless you are in training for the Olympic shot put or just like whisking, use a stand mixer or if you're not equipped with one, a hand mixer works great with this meringue cookies recipe.
This recipe calls for superfine sugar. You can make your own by processing regular sugar in a food processor equipped with the blade. Superfine sugar dissolves more easily in the egg whites to make smooth meringue.
Meringue Cookies
Preparation Time: 15 minutes
Baking time: 90 minutes
Makes about 2 dozen 2 inch meringues.
Ingredients
4 large egg whites at room temperature
1/4 teaspoon cream of tartar
1 cup superfine sugar
Directions
Preheat the oven to 200° F or 105° C.
Place the egg whites in a metal or glass mixing bowl. Using either a hand mixer or a stand mixer, begin beating the eggs. After several minutes they will start to thicken. Add the cream of tartar and continue beating until soft peaks form. With the mixer on, gradually (over several minutes) pour in the sugar. Continue to beat the egg whites until they are stiff and glossy. This will take about 10 to 15 minutes, so be patient.
Cover a baking sheet with parchment paper and place regular mounds of meringue about an inch apart on the paper. You can either use a spoon to form the cookies, or if you or your child feels especially creative, use a pastry bag to form more regular shapes.
Place in the oven and bake for 1 1/2 hours. Turn off the oven and allow the meringues to continue drying for several hours.
Your meringues should easily lift off of the parchment paper.
Variations:
To create pastel shades, add a couple drops of food coloring (This would be perfect for a baby shower or afternoon tea party).
Chocolate chip - Fold in one 6 ounce bag of mini chocolate chips.
Flavoring - A splash of vanilla, almond or mint flavoring could be a welcome addition.