Ham Appetizers
With a French Touch
These ham appetizers are all quickly prepared, ready to enjoy in a jiffy. Sliced ham is a simple place to start for creating tasty, satisfying, and easy appetizer recipes.
All of these recipes use either cooked ham or raw cured ham, both ingredients you can store in your refrigerator for weeks and have ready for an impromptu aperitif.
Ham Appetizers
Here are four fast ideas to get you started, all featuring typically French ingredients. But don't stop with these, think of what you could roll up in piece of ham and offer as an easy appetizer recipe - the possibilities are limitless.
Prunes and cured ham

Amuse-bouche jambon pruneaux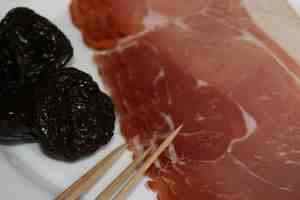 These ham appetizers a warm and satisfying treat, with next to no effort. If you're going to do just do one appetizer, pick this one. It is fast, fast, fast and delicious.
Ingredients
4 ounces raw ham, such as jambon de Bayonne or prosciutto
20 pitted prunes (I prefer smaller ones for this, so that the final roll is small enough to eat in one bite)
Directions
Slice the ham in about one inch by six inch slices. Place a prune on each and roll up. Place under the broiler until the ham sizzles - about 2 minutes depending on your broiler.
Careful to let these cool a bit before enjoying - the hot prune can burn your mouth. If you want, you could add a toothpick afterwards, but don't put these under the grill.
Melon and Prosciutto Appetizer

Amuse-bouche jambon melon
The classic combination of ham and melon is perfect for a mid-summer appetizer. I use a Charentes melon (pretty much a cantaloupe) or you can try it with whatever melon suits your fancy. If you want total mouth bliss, have these ham appetizers with a Pineau de Charentes, a fortified sweet wine. No need for dinner.
Preparation time: 15 minutes
Ingredients
Raw ham, such as jambon de Bayonne or prosciutto - about 6 ounces is good for one medium sized melon
Melon
Directions
Cut the melon in half, then peel and seed it. For a fancy effect, you can use an apple corer to cut out tidy small logs of melon about 2 inches long, or you can just slice the melon as you wish.
Slice the ham in strips of about an inch wide and six inches long.
Place one piece of cantaloupe on each piece of ham and roll the ham around it. Secure with a toothpick if you wish.
Keep refrigerated until serving time.
Ham Rolls with Goat Cheese Spread

Roulade jambon chevre
You can change the herbs around in this as you wish. (If you are pressed for time just use a prepared cheese spread such as Boursin garlic herb to makes these roll ups.)
Makes 20 bite sized rolls
Ingredients
8 ounces sliced cooked ham (luncheon meat style)
2 tablespoons parmesan
8 ounces soft goat cheese (not the kind with a rind)
2 tablespoons chopped fresh herbs (try mint, parsley, chives, dill, or your favorites)
2 tablespoons olive oil
salt and pepper
curry powder (optional)
Directions
You can whip this together in a food processor. Blend the parmesan cheese, goat cheese, herbs and olive oil together until smooth. Season with salt and pepper.
Lay the ham slices out flat and spread evenly with the cheese mixture. Roll up the ham and slice into bite sized servings. For an extra touch of color and taste, dip the end of the roll in curry powder.
Ham Rolls with Blue Cheese Spread

Roulade jambon roquefort
Makes 20 one inch roll ups
Ingredients
6 ounces raw cured ham, such as Bayonne or prosciutto, cut in strips
6 ounces Roquefort cheese, or other blue cheese
1/4 cup heavy cream
1 tablespoon walnut oil
6 finely chopped walnuts
1 tablespoon chopped chives
pepper
Directions
In a food processor, blend the cheese, cream, walnut oil, walnuts and chives. Season to taste with pepper.
Lay the ham out flat and spread evenly with the cheese mixture. Roll up the ham and cut in two if the slices are wide. Use a toothpick to secure if you wish.
Now that you have the idea, think up your own wonderful ham appetizers, and let me know what you come up with. I'd love to hear from you.
Return to Easy French Appetizer Recipes.
Ham in France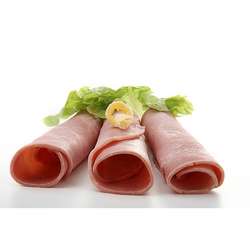 The French love ham and even the tiniest grocery store will usually be equipped with a meat slicing machine and several varieties of jambon to choose from. Keep in mind that there are two basic sorts of ham available. Cooked ham, which is light pink in color, and what most people use when they're going to make a ham sandwich, and raw cured ham which is darker in color, prosciutto from Italy being the best known example.
Although Italy wins the notoriety contest for raw cured ham with its prosciutto, France has its own special hams, such as jambon de Bayonne, a delicious raw cured ham from the south west of France.