Easy French Appetizer Recipes
Here are some easy French appetizer recipes, including tapenade, leek tart and baked Brie. French appetizers include a wide variety of hors d'oeuvres, sometimes called les amuse-bouches (mouth amusements). Don't be put off by these fancy terms, all of the recipes featured here are easy and require no special techniques for success. As with all good food, the only secret is to start with the freshest and best ingredients you can find.
Balance your appetizers with your meal
As always with cooking and serving food in the French style, consider balance. If you are making one of these easy French appetizer recipes for an event where dinner is not included, include lots of tasty and filling noshes, both warm and cold. Your guests will be grateful to find enough to eat so that if the event lasts late, they don't have to worry about dinner afterwards.
If on the other hand, you will be serving a heavy dinner soon after appetizers, go lightly. I've made the mistake more than once of going overboard on the appetizers and found myself with less than enthusiastic eaters at the dinner table. On the other hand if you want to stretch things out, go right ahead and serve a hearty appetizer and wait on dinner a bit.
Appetizers can be fun to make and nothing is to stop you from giving them a test run a couple of days before a party you are planning. Just serve your family a many coursed meal with the results.
Many of theses French appetizer recipes can be made ahead of time. Who wants to be fussing with something in the kitchen when everyone else is relaxing with a drink? As always at Easy French Food, you will find all of these recipes simple to prepare and without a lot of fussy ingredients.
Canapé Recipes
Despite their elegant reputation, these hors d'oeuvres can be quick to fix, provided you begin with a few simple ingredients and a touch of creativity.

Cheese Puff Recipe
In France, these are called gougères and they make a yummy warm appetizer. Made with choux pastry, you can add various cheeses and other ingredients to change the flavor as you wish.

Eggplant Caviar
Roasted eggplant gets pureed with garlic, tomatos and herbs for a tasty dip that can also serve as a sauce for breaded chicken strips.

Fried Cheese Recipe
Fried brie cheese with two succulent sauces. This goes together very quickly for a hot appetizer everyone will love.

Fried Eggplant Recipe
Slices of eggplant dredged in egg and bread crumbs are deep fat fried for a hot appetizer that will be gobbled up in no time.
Ham Appetizers
Sliced ham is the starting place for lots of easy French appetizer recipes. Here are three great amuse-bouche ideas that will have you out of the kitchen quickly.

Leek Tart Recipe
This recipe relies on jarred tapenade and store bought puff pastry for ease. A great combination of flavors including fresh goat cheese and leeks.

Olive Bread Recipe
A savory quick bread with cubed ham, green olives, and cheese. Slice it into cubes for a tasty, satisfying and very easy appetizer.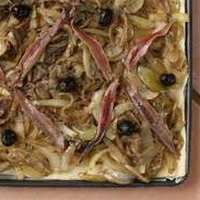 Pissaldière
A yummy carmelized onion pizza topped with anchovies and black olives. This is a speciality of Nice and makes a wonderful appetizer or even a modest lunch.

Salmon Appetizer Bread
This delicious bread can either be served as an appetizer or as an entree. Fresh salmon and leeks are baked with your choice of herbs.

Salmon Mousse Recipe
A popular spread in France, this smoked salmon mousse goes together easily and can be served on triangles of toasted bread.

Salmon Rillettes
Another sort of salmon spread, rillettes are made by blending fresh and smoked salmons with butter and a little seasoning.

Sardine Recipes
Here are two easy French appetizer recipes featuring sardines. One pairs the fish with tomatoes in a delicious tart and the other is for a mousse you can serve with crackers or bread.

Tapenade Recipe
You can make this easy easy olive paste with either green or black olives. Enjoy this popular spread with toasted rounds of French bread.

Zucchini Fritters Recipe
Kids and adults love these shredded zucchini fritters. These are great served with a tomato dipping sauce.
My
faux pas

(one of many)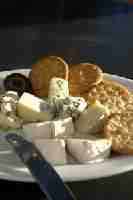 Cheese is rarely served as an appetizer in France. I remember being stared at rather oddly when I showed up with cheese and crackers as an appetizer at a potluck. Cheese is reserved for a special course all by itself after the main meal, where it can receive all of the lavish attention the French love to give it.
Learn more about hors d'oeuvres in France here: French appetizers.
Return to Easy French Recipes.
Entertaining tip
If you always have a stock of nuts, crackers and olives in the pantry, than you are equipped in case you do find that all the appetizers have been gobbled up and dinner won't be ready for another 30 minutes.
New!

Comments

Have your say about what you just read! Leave me a comment in the box below.