Chocolate Tart Recipe
Here is a very easy chocolate tart recipe that kids will love eating as well as making. It is simply a tart shell that has been filled with chocolate ganache and perhaps decorated with a few candies.
Recipe Notes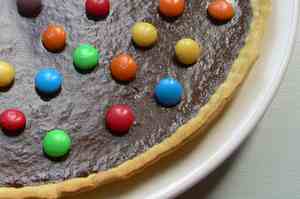 What is Ganache
At its simplest, a ganache recipe is just a mixture of heavy cream and melted chocolate. Sometimes butter will be added and sometimes various flavors, such as:
lemon
raspberry
coffee
pistachio
tea
and even lavender!
You can also vary your ganache by making it with different types of chocolate:
dark chocolate
milk chocolate
white chocolate
You will find ganache used as a filling or frosting in various French cakes and pastries.