Chocolate Mousse Recipe
Try this chocolate mousse recipe for an easy but elegant French dessert that everyone will love. It goes together very quickly, but requires several hours of refrigeration. You could even make it a day ahead of time.
Chocolate Mousse Recipe Notes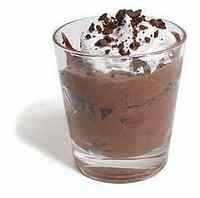 There are a number of different methods for making chocolate mousse. Some recipes call for the addition of butter or whipped cream and some use gelatin to set the mousse. The recipe here skips any complication and gets right to the point: chocolate and eggs. This makes a very rich mousse which tastes best with dollop of this whipped cream recipe on top.
Use only

very fresh eggs

to make this recipe. If you are particularly concerned about the risks of eating raw egg, you may also be able to find pasteurized eggs which should work fine.
Use a dark, semi-sweet,

high quality chocolate

in this recipe. Chocolate with a higher percentage of cocoa will give a stronger, less sweet tasting mousse.
Your equipment must be completely free of any trace of fat to successfully beat egg whites into a meringue.

The mixing bowl should be scrupulously clean

and make sure that no egg yolk gets into the whites.
Always

heat chocolate slowly

in a double boiler without allowing the top pan to touch the water. Chocolate does not appreciate abrupt heating and will turn into a grainy mess when abused. Also be careful to allow no water to enter into contact with the chocolate as it is heating, for this will cause it to turn as well.

Allow the chocolate to cool just a few minutes

before adding the yolks. If it's too hot the yolks will cook, and if it's too cold the mixture won't blend well.
Mousse au chocolat
Makes 4 to 6 servings.
Ingredients
8 ounces good quality semisweet chocolate
6 eggs, at room temperature
whipped cream (optional)
Directions
Slowly melt the chocolate in a double boiler. The top of the double boiler should be just above the water and the water should be at a simmer, not boiling.
Separate the egg yolks and whites into two large clean bowls.
Using a hand or stand mixer, whip the egg whites until stiff peaks form.
Allow the chocolate to cool just slightly then stir the melted chocolate into the egg yolks, beating vigorously with a wooden spoon until the mixture is smooth.
Stir one third of the egg whites into the chocolate mixture and mix until thoroughly blended.
Using a sharp edged spatula, carefully fold the rest of the egg whites into the mixture.
Spoon the mousse into individual parfait glasses, chill and serve with whipped cream if you wish.
Chocolate Mousse Recipe Additions
By stirring them into the chocolate along with the egg yolks, you can add various flavors to the mousse. Try a tablespoon of espresso,orange flower water, Grand Marnier, or another favorite liqueur.
Layer the mousse with whipped cream or crushed cookies or both.
Serve with fruits such as strawberries or raspberries, or top with chopped filberts, pistachios, caramelized nuts, or candied orange peel.
New!

Comments

Have your say about what you just read! Leave me a comment in the box below.