Chocolate Charlotte Recipe
This chocolate charlotte recipe is an easy variation on the fanciful French cake known as a Charlotte Russe. It features a ring of brandy soaked lady fingers and a rich chocolate mousse filling. The elegant presentation is surprisingly simple to achieve with the right ingredients and equipment.
Charlotte Molds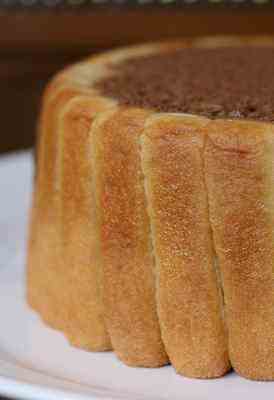 You will need the right mold to get good results with this chocolate charlotte recipe. A traditional charlotte mold holds about eight cups - just the right size and shape to give gorgeous results. You should try to find a non-stick mold which virtually guarantees you the quick release that is needed to make a beautiful charlotte.
There are also less espensive charlotte molds, but they do not have the non-stick surface. They should work just as well, but be extra careful to thoroughly grease the sides and bottom of the mold before lining it with the lady fingers.
Lady Fingers
The lady fingers in this chocolate charlotte recipe are called boudoirs in France. They are a fairly dry biscuit-like cookie, oblong in shape, with one face curved and the other flat. They quickly absorb liquid, yet are resistant enough to hold together and create the sides of the charlotte. You could experiment with other lady finger type cookies for this chocolate charlotte recipe, but I only vouch for good results using boudoirs.
Charlotte Russe
You'll find recipes for a wide variety of cakes referred to as a charlottes. Typically a special mold is lined with cake, cookies, or bread and then filled with a custard, mousse or pudding. There are even French recipes for savory charlottes -- for example lining a pan with cabbage leaves and filling it with an egg and vegetable mixture before baking.
According to some food historians, the original charlotte was made in England in the 18th century in honor of Queen Charlotte, the wife of King George III. In France, the invention of a special charlotte called a Charlotte Russe (or Russian Charlotte), is credited to a French chef who named it after his employer, who was a Czar.
A Charlotte Russe typically is made with lady fingers for a lining and contains a cream filling that is set with gelatin - called a Bavarian cream. In the chocolate charlotte recipe given here, the Bavarian cream has been replaced by a chocolate mousse.