Chocolate Almond Cake
Here is a moist and delicious chocolate almond cake recipe, known as a Reine de Saba in France. Reine de Saba means Queen of Sheba and I am afraid it is not clear where this cake got its name. After all, it is doubtful that the African Queen who lived some three thousand years ago ever even tasted chocolate!
Queen Julia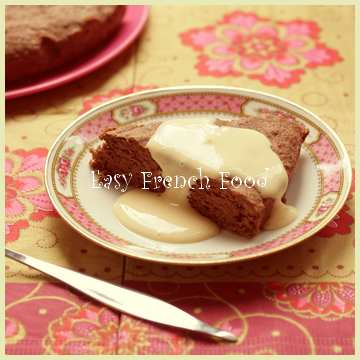 Reine de Saba has been enjoying a little popularity in the culinary blog world the past few months. Julia Child included a recipe for this cake in her epic cookbook Mastering the Art of French Cooking, and since Julia has been all the rage lately (with the release of the the movie Julie & Julia), a lot of people have given the recipe a whirl.
The cake is a little unusual in that it contains no leavening other than the stiffly beaten egg whites. Do not expect a huge high cake. This cake is rather dense and moist and a small piece is considered a serving.
Julia topped her chocolate almond cake with a chocolate icing, but here in France, a Reine de Saba is more likely to be served plain or with this custard sauce recipe (called crème anglaise) simply poured on top. My family is batty for crème anglaise, so that is the way I serve it.