White Bean Salad Recipe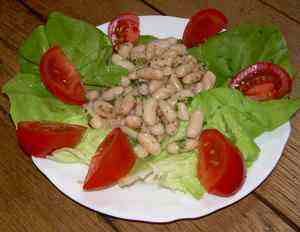 This white bean salad recipe is quick and delicious and so satisfying it can make a light meal by itself. It passes the kid test at our house. Since it is so easy to prepare, and you can even serve it as a main dish, you'll have time to make some garlic bread and arrange the salads prettily on individual plates.
To keep it quick, this French salad recipe uses canned beans. Nothing is to stop you from cooking the beans yourself however. This white bean salad recipe will only be all the more delicious.