Easy Baba Au Rhum Recipe
A traditional baba au rhum cake is made with yeast dough. By starting with a baking powder leavened cake, this popular French dessert becomes something you can quickly put together. The taste and texture are slightly different than the classic rum cake recipe, but the results are nonetheless lip smacking delicious.
---
Baba Molds
Darioles
Baba au rhum molds are also called darioles in French. They are basically an oversized thimble and can be used to cook all sorts of things, not just baba cakes. The rum cake recipe that you find here makes just enough batter to fill six one cup individual baba molds.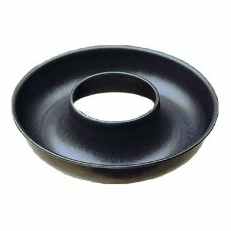 Savarins
This is another typical presentation, and the one you will find used in the recipe here. This makes putting the baba au rhum together a snap, because you won't need to fuss with individual servings. The classic savarin mold is not very deep so the baba cake will cook quickly in it. You can also cook other sorts of cakes in savarin molds.
Bundt
Finally, another popular presentation for babas here in France is to bake them in individual savarin molds. The mini bundt pan pictured here is just the right size to use with this recipe. This mold is just adorable and I can well imagine making all sorts of cute desserts with it.
Baba au rhum express
Preparation Time: 40 minutes
Baking time: 25 minutes
8 servings
Ingredients
For the cake:
3 large eggs
1/4 cup butter + 1/2 tablespoon for greasing pan
1 cup flour
2 teaspoons baking powder
2/3 cup granulated white sugar
1/4 cup milk
For the rum syrup:
2/3 cup water
1 cup sugar
1/3 cup dark rum
For serving:
Directions
Separate eggs into two mixing bowls.
Preheat oven to 350°F (180°C).
Grease 6 cup ring mold with butter.
Cut butter in four pieces, place in a small glass bowl, and melt it in the microwave. Be careful: butter melts quickly (about 30 seconds) and risks to explode if you don't give it a stir about half way through.
Sift flour with baking powder into another bowl or onto a sheet of baking paper.
Using a whisk, or an electric hand mixer with a whisk attachment, beat egg yolks with sugar until light colored - about 2 minutes.
Add sifted flour and baking powder, melted and cooled butter, and milk. Mix until well combined.
Using clean whisks, beat egg whites into stiff peaks. Stir 1/3 of the whites into the batter until fully combined. Carefully fold in the rest of the egg whites - takes about 20 folds.
Pour and spread the batter evenly into the greased mold. Bake at 350°F (180°C) for 25 minutes. Remove from oven and allow to cool for five minutes before turning out onto a serving plate.
While the cake is baking, prepare the rum syrup.
Mix water and sugar in a small saucepan. Bring to a boil on medium heat. Remove and cool 10 minutes. Stir in rum.
While the cake is still hot from the oven and cooling on the serving plate, prick it in 30 or so places with a skewer. Spoon the syrup onto the cake. It helps get the most syrup into the cake if you rest the full spoon on the cake and then turn it slowly.
Once all the syrup is gone from the pan, drain the unabsorbed syrup from the serving plate back into the pan and repeat the process. It may even take a third time, but eventually all of the syrup should be absorbed by the cake. Allow the cake to cool, then wrap and refrigerate until serving time.
To serve, fill the center of the cake with a mound of whipped cream and decorate with fruit.